Insights and Information On Combining the Winter Shows
---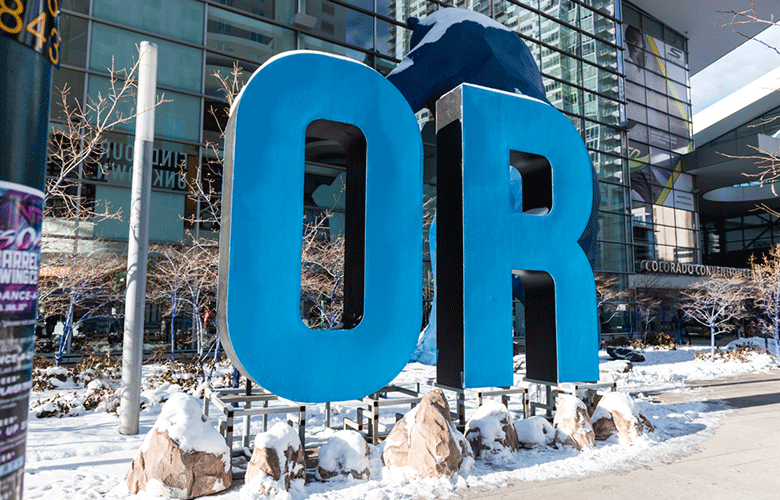 How did you make this decision?
Outdoor Retailer and the Outdoor Industry Association partnered in the decision.
In 2016, the industry expressed a strong desire for the national show to be an early winter buying-season launch event and we responded by moving Winter Market to the front of the season. When Snow Show was acquired, the timing of that show was pushed to later January to the timeframe snow buyers wanted. Since staging last year's November show and trying to build support for Winter Market 2019, the sentiment has shifted, and the outdoor and snow communities would prefer to gather at a single show in the same timeframe. As a result, the decision was made to bring these two shows back together in January.
"We care deeply about our community, and alongside OIA, we're working to support the diverse, evolving needs of the market in order to help the outdoor and snow industries thrive. It's our goal to bring our industry together and provide the most productive platform for success," said Marisa Nicholson, Outdoor Retailer senior vice president and show director. "When we positioned Winter Market at the front of the buying season, it was in response to our community. Through ongoing feedback, it has become clear that one combined winter show in January will best support brands, retailers and reps, leading to greater value for all in attendance. Outdoor Retailer is where the entire industry comes together, and we're looking forward to having outdoor and snowsports gather for one vibrant show and to collectively help our industry continue to grow. I also want to thank Visit Denver, the Colorado Convention Center, the Denver hotel community and the state of Colorado for their incredible support of Outdoor Retailer and the outdoor community."
"Our job at OIA is to listen to our members, to be innovative and to support the timing of the trade shows that creates the highest return-on-investment and efficiency for the outdoor marketplace,"said OIA Executive Director Amy Roberts. "We listened to our members in supporting the move of the trade show from Salt Lake City to Denver and responded to member feedback with our support of an earlier winter show in collaboration with our industry's specialty retailers. It is clear now that the industry would like one consolidated winter show and we support Outdoor Retailer's decision to bring the two winter shows together under one roof and in one timeframe. Outdoor Retailer is the one moment when we come together as an industry and we look forward to supporting an exceptional show in January 2020. We will be there with a strong offering of educational, sustainability and advocacy events during the show. I also want to recognize the strong partnership that has developed between OIA, SIA, Outdoor Retailer and Grassroots Outdoor Alliance and we look forward to continued collaboration in support of the industry."
Is there still a need for a national show?
A national show is more than commerce. It's a robust ecosystem that supports brand statements, camaraderie among retailers, the sharing of best practices, the activity of nonprofits, and the ability to be part of something bigger. While the show does provide a critical medium for conducting commerce, it's also about sharing information, networking, innovation, and discovering what's new.
Outdoor Retailer is about connectivity and helping the outdoor community further the growth of the outdoor industry. The shows create face-to-face experiences to build relationships and to provide a platform for brands to tell their stories. Trade shows put everything all in one place and are an efficient way to conduct business and to engage the industry as a whole.
Did Emerald Expositions and/or Onex make this decision? Was it a result of the new leadership at Emerald? Do they support this decision?
This decision was made by the Outdoor Retailer team as a result of us listening to our customers and making the decision that we feel is best for the industry. Emerald Expositions and Onex support the decision.
Why were there three shows?
There were always three shows—two Outdoor Retailer shows and one SIA show—they were just packaged differently. We acquired Snow Show from SIA. Then, after analyzing tons of data, surveys and feedback, we moved the shows to best accommodate seasonal buying patterns, as reflected in the data. Retailers wanted to see all the products, learn about the latest trends, and have all of the intel upfront before making buying decisions. And, prior to the acquisition of Snow Show and move to Denver, Outdoor Retailer Winter Market had been held in January.
We've now heard from the industry that there is greater value to everyone to have one combined winter show, Outdoor + Snow Show, in January. Summer Market will remain in June.
WINTER MARKET EXHIBITORS AND ATTENDEES
Will all the brands planning to exhibit at Winter Market now be at Outdoor + Snow Show?
Winter Market exhibitors have the opportunity to exhibit at the Outdoor + Snow Show. Our goal is to have the whole of the industry together, like we saw at our first show in Denver in January 2018.
Is there room to exhibit at Outdoor + Snow Show and Summer Market? Or for brands to expand their booth footprint?
Yes – we want to continue to bring the whole industry together under one roof. For information on exhibiting, contact your Account Executive.
What happens for those brands already contracted for Winter Market? Will a brand receive a full refund for any payments made to exhibit?
Brands can opt for a full refund for contracted exhibit space or can apply any Winter Market payments toward a future show – Outdoor + Snow Show or Summer Market. Contact your Account Executive to update your plans.
Can I still exhibit at Outdoor + Snow Show?
Yes – contact your Account Executive for details.
Will an attendee receive a full refund for registration charges made to attend?
Yes, registered, paid attendees will receive a full refund of their registration charges. Contact our Attendee Relations team to update your plans.
Can I register now for Outdoor + Snow Show?
Registration for Outdoor + Snow Show in January will open soon. Housing can be booked now for Outdoor + Snow Show.
What about bike?
Bike brands and dealers can explore options for exhibiting and/or attending Outdoor + Snow Show and Summer Market. Manufacturers and brands have previously indicated that timing on the two shows may fit their product cycles.
GRASSROOTS CONNECT
Will the Grassroots Fall Connect show still be in Denver, November 1-5, 2019?
Yes, Connect will stage at the Colorado Convention Center in Denver as planned, November 1 – 5, 2019. If you have questions about Connect, please reach out to Rich Hill at rich@grassrootsoutdoors.com.
TRAVEL
Will I get a refund on my Winter Market hotel reservation?
No payments have been made yet for rooms booked in our housing block via EventSphere, the official housing partner for Outdoor Retailer shows. EventSphere will be reaching out to everyone with active reservations to assist with cancelling or rebooking hotels. For questions regarding housing booked through EventSphere, contact them at (877) 414-7918.
What if I booked a non-refundable flight and/or lodging for November?
If you are a retailer, independent rep, or designer, please contact our Attendee Relations team. For media, contact PR. If you are a brand, contact your Account Executive.
What if I'm having trouble finding housing or affordable housing for Outdoor + Snow Show?
EventSphere, our official housing partner, can be reached at (877) 414-7918 and can assist with hotel needs. Retailers can also contact our Attendee Relations team for support.
TIMING / LOCATION
Will there be only two shows moving forward? What is the new show schedule?
At this time, the decision is to support two seasonal national shows for the industry – a winter show in January and a summer show in June. Feedback on timing or length of shows will be important as we look to future dates and continue to provide the most successful platform for the marketplace.
Will Outdoor + Snow Show and Summer Market remain three days long?
For January 2020, Outdoor + Snow Show stays at three days, from January 29-31, 2020. We will continue to evaluate the needs of the industry to determine the duration for all shows moving forward.
Will the show stay in Denver?
We're contracted in Denver through 2022.
Does this impact Winter Sports Market in January or SIA's On-Snow Demo?
No – Winter Sports Market (SSL/SMC) will continue as scheduled, from January 26-28, 2020 at the Colorado Convention Center in Denver; SIA's Industry & Intelligence Day remains January 28, 2020; and the SIA/WWSRA Demo Experience will return to Copper Mountain, CO, with details to be announced.
EVENTS + EDUCATION
What happens with the education sessions scheduled for Winter Market?
We will work with the individuals and organizations slated to speak during Winter Market to develop the same or similar programming at a future Outdoor Retailer show.
Will there still be an Innovation Awards?
The second annual Outdoor Retailer Innovation Awards will now be held during Outdoor + Snow Show, and the timeline for submissions will be adjusted in the coming weeks.